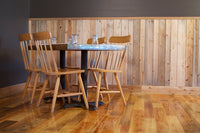 Wainscoating
Reminiscent of channel rustic siding, our standard profile delivers a clean and contemporary look. Comprised of 1/2" thick boards in a random pattern of 3", 4", and 5" widths.
• 100% river reclaimed wood​
• Easy to Install
• Unique Penobscot Patina
Contact us for pricing and a shipping quote.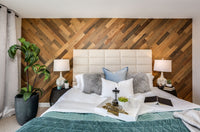 Timberchíc
Give any room a mini makeover with our river-reclaimed Timberchíc wall planks. Not only will your guests compliment you, but your walls will thank you. Plus with trusted 3M backing, Timberchíc is easy to put up and will always stay up.
• 3", 4", 5" Peel & Stick wall planks with 3M backing
• 12"-42" length range​
• A variety of modern, rustic elegant colors
• 100% River reclaimed wood
Timberchíc.com