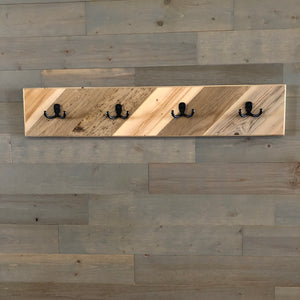 Decorate your space in style with wood the world hasn't seen in over a century. Each order contains one decorative hook board. Use it for your coats, keys, dogs leash, or your bathrobe and towels. These products were created with love from lost old timbers which were submerged and recovered by the Maine Heritage Timber Company.
Features
- Products arrive pre-finished.
- Product Dimensions are 32" x 6" or 16" x 6"
- All necessary hardware for hanging is included with purchase.
- Each board has 4 double hooks.
- Each product is unique in character, color and will vary in natural beauty.